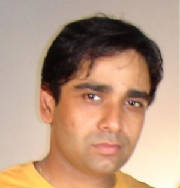 House No. 1393,
"Jaiswal's", 11th Cross,
21st Main, Sector-1,
H.S.R Layout,
Bangalore - 560 034
India.

Cellular No. : +91-9845015522
Phone No.(Res.) : +91-80-25721250
e-mail : raj_wal@hotmail.com / raj_wal@lycos.com

Objective: To further leverage my technical, business development and management capabilities to achieve organization's revenue goals.

Capsule of Background:
- Over 14 years of rich experience in Sales of Networking products, Solutions, Software and services in the IT industry
- Exposure to All India market and market of South Asian Countries.
- Strong networking/alliance building capabilities.
- End to end sales exposure -from cold calling to closing and managing big accounts.
- Understanding Business Process of the customer and map leading edge technology by coordinating multiple products/ vendors to create a complete solution.
- Building relationships with the CEO,CIO,CTOand other functional Heads of the named account.
- Create marketing plans, Assessing market potential , Collecting and analyzing market information, Advertising and sales promotion strategies.

Key skills with accomplishments:

Strategic Planning and Business Development: Successfully developed and executed tactical and strategic business plans to meet organizations business objectives. Have carried to the target customers the Companies value proposition of Products, Services and Solutions Implementation capabilities, which nearly doubled the company's turnover. Single handedly convinced and created new tip-ups / alliances with worlds leading networking companies.

Key Account Management: Handled major accounts directly. Single point of contact with all functional heads in these accounts. These accounts contributed a large portion of the company's turnover.

Relationship management and total customer service: Responsible for cultivating, generating & growing large scale relationships for major accounts. Ensuring customer satisfaction by achieving delivery and service quality norms and keep track of project related activities to be completed on or before schedule.

Product Management and presales activities: High involvement in designing of networks that is huge, complicated and heterogeneous in nature. Played key roles in the technical discussions and managed many projects that are mission critical and time bound in nature. Provide in-house training and support to sales team across the country.

Professional Work Experience with Select Accomplishments

Dec. 2005 - Present B.A. Systems Bangalore
BA Systems is a Silicon Valley (San Jose) based Networking Company, VC funded by Bessemer Venture Partners. BA Systems creates and markets leading edge networking products for enterprise, carriers and MSPs who give RIM services to their customers. The product is differentiated through bringing carrier class robustness and reliability to the enterprise networking.
Working as National Sales Manager - Key Accounts and reporting to the V.P (sales and marketing) hold responsibility for solution design and sales for those accounts.
- Sold many devices even before the product launch. The cusotmer list included major Telcos, ISPs and SIs. Consistently meeting targets with aggressive quarter on quarter growth. Opened top accounts for the company single handedly and received major orders from them.
- Highest individual contribution in sales since last two financial years. Signed up the only OEM partner in the country.
- Provided feedback on market trends, future customer requirements, competition and potential business opportunities; playing key role in defining the product roadmap. Built and managed relationships with various departments within the company like Engineering, Software Devepopment, QA ...etc.
May 2000- Dec. 2005 Microvillage Communications Bangalore

Microvillage is a distribution and System Integration company in the area of networking and telecommunication . The company has tie-ups with Commworks Corporation for Remote Access Servers , and solutions for VoIP, FoIP, UMS, IP Centrex, Retail Voice and Transparent Trunking. It also has tie-up with Intrusion Inc. for Security Solution, with Foundry Networks for L2-L7 switches & IP Routers, with Quintum for VoIP solutions, Trango for Wireless Broadband solutions, 3Com for Switching and Routing solutions and with Sitara Networks for QoS and Bandwidth Management Appliances.

Working as a Product Manager (India & SAARC) and reporting to Directors of the company, hold sales/ Presales/ techincal responsibility for Quintum, Trango and Foundry product lines for entire India and SAARC countries
- Handled directly major accounts like VSNL, Satyam Infoway, Tata ISP and received major orders from them.
- Faced the customer as a pre-sales consultant designing their network and convincing them technically while worked with the vendors as their Product Manager.
- Responsible for the company's tie-up with Foundry Networks and received major orders single handedly. Took Quintum sales to great heights establishing as a leading brand in India.

May 1998- April 2000 MRO-TEK Ltd. Bangalore

MRO-TEK is a technology distribution company in the field of data communication. Apart from the production of indigenous line-up products at its manufacturing facility at electronic City, Bangalore the infrastructure is being used for manufacturing select RAD products which is a result of MRO-TEK / RAD joint venture. The company has tie-up with RAD for data communication products, with ZyXEL for ISDN products with Breezecom for Radio Modems & wireless Ethernet ... to name a few.

Working as a Regional Manager (Marketing) and reporting to A.G.M (Marketing)of the company, held responsibilities for Channel Development & Management for the region of North and East India.

- Successfully creating a brand image of ZyXEL Modems and ISDN products, which took nearly 70% of the ISDN market.
- Achieving Sales targets through Channel / Direct Marketing.
- Successfully identified and appointed System integrators, which contributed in a turnover increase of around 200 percent.

Jan.1995-April 1998 Calisys Technology Pvt. Ltd. Bangalore

Calisys is a member of 85-year-old Rs.800 Crores Chettinad Group. The company has set up separate divisions to focus on providing Networking, Telecommunication, Consulting & Software Development. Its philosophy is to provide total solution to customers with brand independency and single point contact. It has strategic alliances with industry leaders like Cisco, 3Com , Newbridge, Cylink and Lucent.

Working as an Account Manager and reporting to Regional Manager of the company held the responsibility to be a single point of contact for all the accounts handled in the region of Karnataka.

- Got the biggest order in Bangalore for Campus Wide Networking from NAL
- Got the first Consulting order for Bangalore from Coopers and Lybrand for connectivity across different office in India to its Regional HQ in Australia.
- Similar projects in LAN and WAN in multiple accounts.

Company Sponsored Traning Program:
- Training on Routing Platform at BA Systems H.Q in San Jose, CA, USA.
- Certificate traning on Sitara QoS and Bandwidth management solutions at Sitara Networks in Singapore.
- Training on Boradband wireless solution from Trango and Breezecom, Carrier solutions from Commworks Corporation, and Access solution from RAD data commuincation.
- Certificate training on VoIP from Quintum and ZultysTechnologies.
- L2 - L7 Switching solutions from Foundry Networks in Dubai
- Security solution from Intrusion Inc.
Education:
- B.E (Computer Science) from Dr. Ambedkar Institute of Technology, Bangalore.
- Advanced Diploma in Computer Hardware engineering from Computer Garage Institute of Hardware Traning, Bangalore
- Certificate course in International Negotiation Skils from Indian Institute of Management, Bangalore.

Sports : Black Belt in Judo. Participation in two, State level Championships.
Date Of Birth : 20th March 1970.
Hobbies : a)Enjoy travelling and experiencing different cultures b) Photography c)Modeling / Participation in Fashion Shows during earlier days